Posted by Gary Brown on 21st Sep 2018
Floxite FL-615-2 15x Supervision Lighted Vanity/Travel Mirror Unboxing and Review
Of all the products we sell, few have the loyal following of makeup mirrors. Customers can't live without their favorite makeup mirrors. Often we see customers requesting overnight delivery and they mention that they must have a particular model mirror to apply their makeup, eyeliner or insert contact lenses. Today we are doing an unboxing and review of one of our most popular makeup mirrors, the Floxite FL-615-2 15x Supervision Lighted Vanity/Travel Mirror. If you are right away wondering what the mirror looks like that people simply can't do without, here is a quick picture.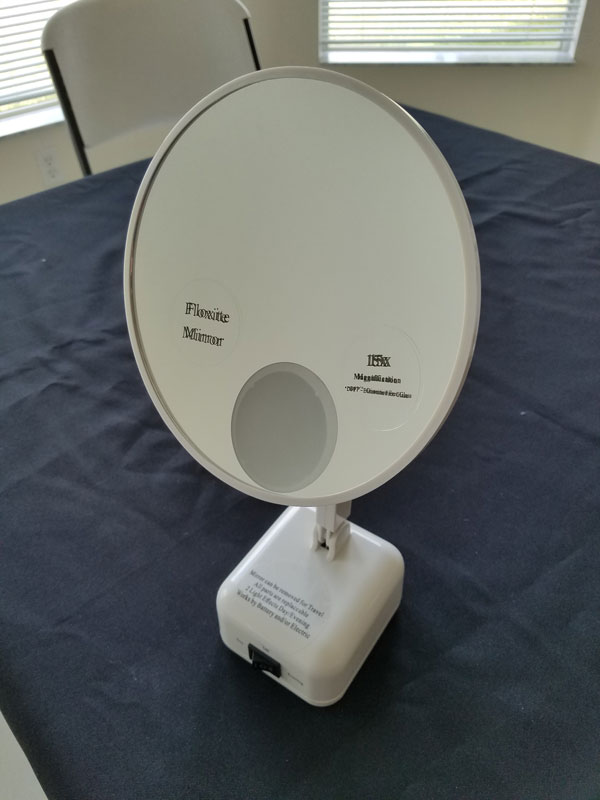 It's easy to realize right away that the designer of this mirror had a good understanding of what customers need is a cosmetic magnifying makeup mirror. The Floxite FL-615-2 comes in a compact size that folds flat for travel and storage.It comes with a powerful 15x magnification distortion free glass mirror that is the perfect size at 6.5 inches diameter, not too large and not too small which can be detached for travel. The older version used to come with a small incandescent bulb, but the new model has been upgraded to a brighter LED bulb that never needs replacing. It seems that most of our lighting is going to LED and lighted vanity makeup mirrors have certainly benefited from the new LED technology just like the lighting in our homes. You can toggle between two lighting effects, Day or Evening light.
Unboxing the Floxite FL-615-2 Lighted Makeup Mirror - What comes inside the box?
Good things do come in small packages and Floxite has included an attractive brightly colored product box which will make a great impression after the gift wrapping is torn off. The box comes with clear product details on all sides of the box and product images and suggestions for ways to use the mirror.
The box comes with a warranty card to register for the 1-year manufacturer warranty and a card with Floxite's customer service number in case you have questions or concerns about the mirror. There is also a product information brochure explaining how to assemble the mirror. There is not much to assemble other that attaching the glass mirror itself to the stand since it comes unattached in the box. The glass comes protected in bubble wrap. The base comes folded. There is a small envelope with the optional diffusing lens to reduce light glare. Also included is the Floxite AC/CD adapter in white color to compliment the mirror. The adapter works with AC100V - 240V and comes with a standard U.S. type two-prong plug. The FL-615-2 will also accept 4 AA batteries. Batteries are not included in the box.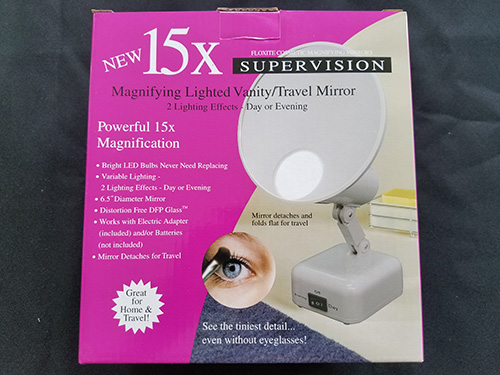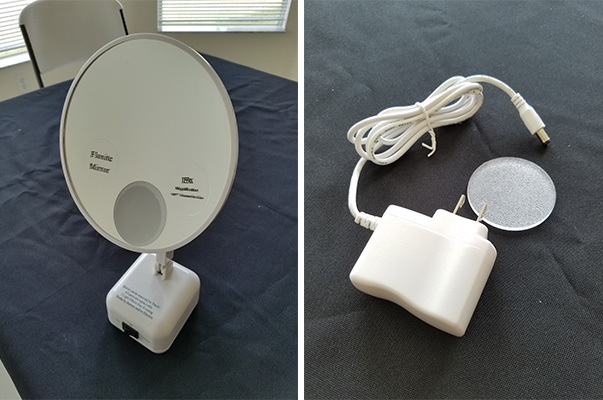 Features
15X Supervision Magnification
With 15x magnification, this is the strongest mirror we carry designed for closeup work. As indicated on the box, you can see the "tiniest details even without eyeglasses". Indeed you will be able to see the pores of the skin when getting close to this mirror. Floxite does carry similar mirrors with lower 5x, 8x and 10X magnification that might be better if you want to see more of the face but for close up work like applying eye shadow, lip liner and mascara or tweezing eyebrows, the 15x is the best magnification for the job.
Variable Lighting
This mirror can switch back and forth between Day or Evening lighting effects using the toggle switch on the front of the mirror. Press the switch to the left for Evening effect and to the right for Day effect. What is nice about the effects on this mirror is that no filters need to be inserted to change the effect.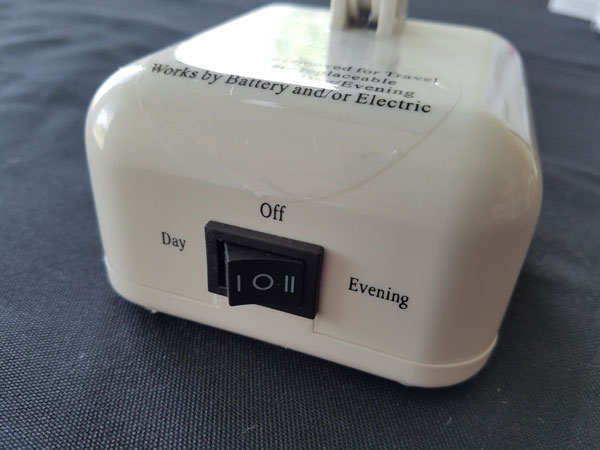 6.5" Diameter Detachable Mirror
For the clearest view, nothing beats glass. The Floxite FL-615-2 doesn't make any compromises as it comes with Floxite's distortion free DFP glass. The 6.5" diameter mirror is large enough for viewing but small enough to fold down easily and store for travel. The glass mirror portion can be easily detached for travel.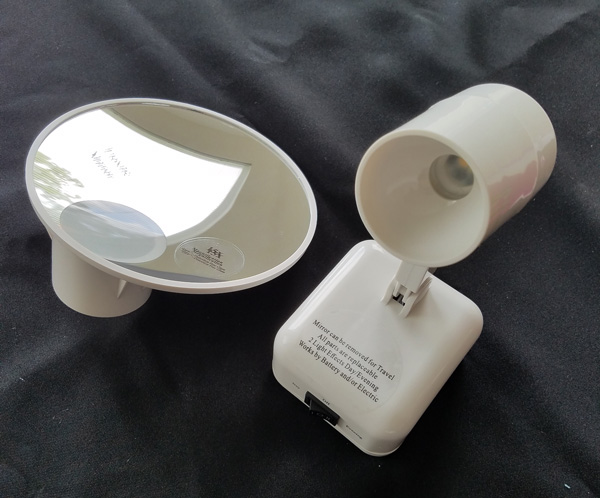 Electric Adapter or Battery Operated
The option to either plug the mirror in for regular daily use or is a great feature for those that prefer to take their FL-615-2 make up mirror with them when traveling vs using a specialized travel mirror such as the Floxite FL-10LFM, Floxite 7504-12L or a compact lighted mirror like the Floxite FL-15ACP.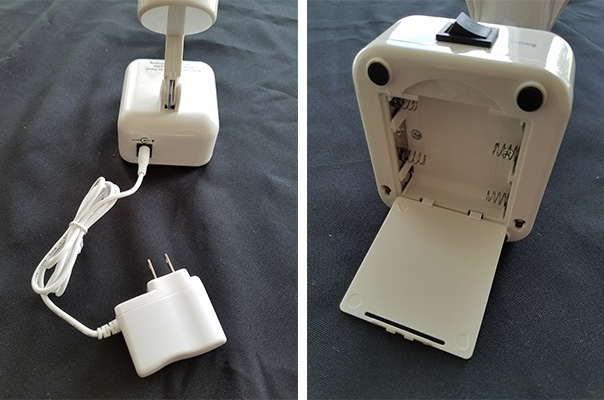 Uses for the Floxite Fl-615-2 Lighted Makeup Mirror
Some of the most popular uses:
Eyebrow Tweezing
Facial Hair Removal
Makeup Application
Skin Care and Facials
Contact Lens Insertion
Eye and Ear Care
Oral Hygiene and Flossing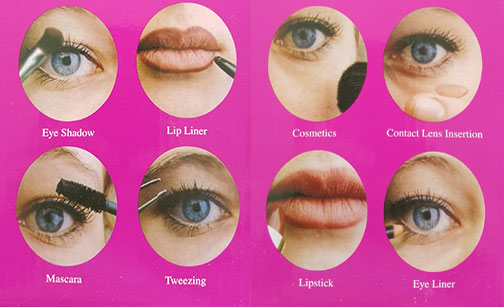 Final Thoughts
The Floxite FL-615-2 Supervision 15x Lighted Mirror is a specialized makeup mirror that has many features not found together in regular mirrors. Sometimes only the best tool for the job will do and once you have the right tool, it's hard to live without it. This is why Floxite mirrors have a loyal following. The versatility is second to none and the features and long list of uses make it a must have tool for home or travel.